Most of us have taken a spill at one time or another, and suffered little more than a bit of embarrassment. Young children frequently fall as they romp and play, and it hardly seems to slow them down. Falls can happen to anyone, and for the younger adults, while they could be fatal sometimes, usually do not result in serious injury. But for people over the age of 65, falls are dangerous and much more likely to be life-changing events.
For some, a fall may even have been a main factor in making certain lifestyle decisions such as installing home devices and other simple changes which could prevent many falls and their resulting injuries. Statistics show that older people who have had a fall in the past are at high risk of falling again. A fall is not only a danger to one's health and well-being, but it may also be for some, the first sign of a previously undetected health condition.
Fall risks can be either environmental or may be caused by some factor related to health status. The risk of being injured in a fall increases with age. According to the Centers For Disease Control and Prevention (CDC) Injury Center, muscle weakness is the number one risk factor for falls among older people.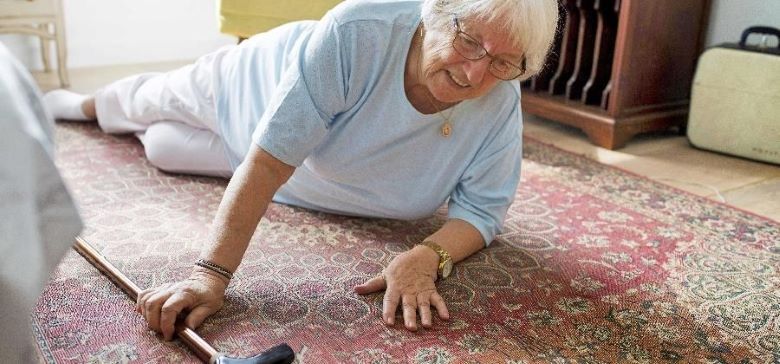 Impaired balance, slowed reaction time, visual problems, hearing loss and medication side effects can also play a role. Gait (walking) abnormalities occur in 20 to 40 percent of those over the age of 65, and 40 to 50 percent of elders past the age of 65, according to CDC Data and Research. Any health problem that causes weakness or interferes with mobility or balance increases risk fall.
Hazards in the environment are especially dangerous for older people who are already prone to falls. Clutter, spills on the floor, and inadequate lighting are all examples of such environmental problems. Most environmental hazards are easily corrected but they must first be noticed and reported to the proper department.
Make Your Home A Tumble-Free Zone
Each year about one-third of all people over age 65 will fall. 1 Many of these falls result in broken bones. Some common causes of falls include outdoor and indoor hazards and making simple changes in your home could prevent many falls and their resulting injuries.
You can take steps inside and outside your home and in your daily routine to prevent falls. Taking these steps can help you enjoy an active and healthy life.
1 From Preventing Falls, Exercise/Safe Movement, Bone Health & Osteoporosis Foundation
Centers For Disease Control and Prevention (CDC) Injury Center