February is Black History Month, and it serves as both a celebration and reminder that Black history, culture, and stories are essential to the overall story of America.
Although everyday should be an awareness holiday to embrace and honor Black history, this month is a great time of year to focus on the contributions and accomplishments of Black Americans. 
What is the Black History Month theme for 2023?
In 2023, the theme for Black History Month is Black Resistance. This theme honors and recognizes the resistance of historic and ongoing oppression of Black Americans. Themes for Black History Month date back all the way to 1928; before it was even called Black History Month.
Policing in the 1990s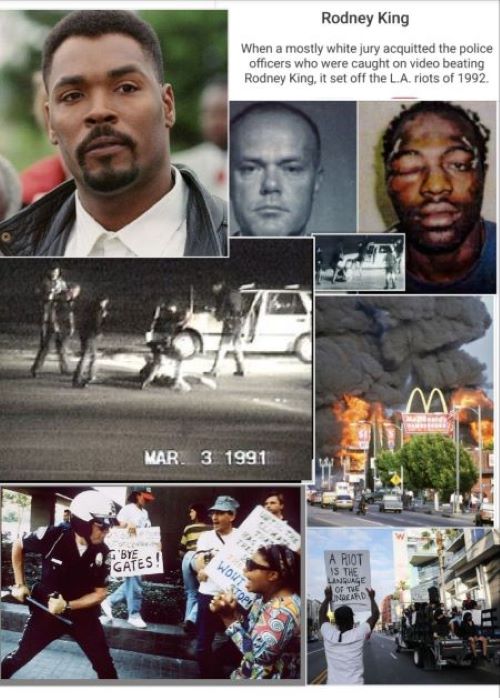 The 1990s began on a sour note and ended with an air of optimism. The incident that helped change the face of American policing occurred on March 3, 1991, when two African American men, Rodney King and Bryant Allen, were driving in Los Angeles, California. They refused to stop when signaled by a police car, instead increasing their speed. When police finally stopped the car, they delivered 56 baton blows and six kicks to King, in a period of two minutes, producing 11 skull fractures, brain damage, and kidney damage. They did not know that their actions were being videotaped by an observer who later gave the tape to the media. The officers involved were tried and acquitted in a suburban court by an all-white jury. The acquittal set off six days of rioting in South Central Los Angeles. In total, 54 people were killed, 2,383 were known to have been injured, and 13,212 people were arrested.1 The police officers involved in the beatings were later tried and convicted in federal court.
The King case prompted an era of reform. Several police experts decreed that the nation's police forces should be evaluated not on their crime-fighting ability but on their courteousness, deportment, and helpfulness. Interest renewed in reviving an earlier style of police work featuring foot patrols and increased citizen contact.
Police departments began to embrace new forms of policing that stressed cooperation with the community and problem solving; this is referred to as the community policing model. An ongoing effort was made to bring diversity to police departments, and African Americans began to be hired as chiefs of police, particularly in Los Angeles.
This month, we would like to give the spotlight to the first African American Chief of Police, Willie Williams.
Black Reformers In Blue: First African American Chief of Police
Born October 1, 1943, Williams was the first African-American to be appointed Chief of Police of the Los Angeles Police Department on June 30, 1992. Williams was seen as an official who restored confidence in the Department and the community after the Rodney King incident. During his time, he introduced the department's 'Mission Statement' which provided a renewed focus on service to the community.
Mr. Williams' tenure of three and a half years in Philadelphia was marked by relative peace. Embracing the concept of community policing, he was credited with hiring and promoting more women and minority group members and with restructuring the police department to add mini-stations and foot patrols.
Following this notable achievement, Mr. Williams addressed sexual harassment and discrimination on the force (he named the first female commander in department history), and was an advocate for reforms in police training and discipline.
Two years into Mr. Williams' tenure, his leadership was fraught with criticism, which was exacerbated when a retired deputy chief raised questions about rumors of unethical actions. The Police Commission began an investigation into allegations that Mr. Williams and his family had used city cars, drivers and cellphones for private purposes and that he had improperly accepted free rooms at casino hotels in Las Vegas.
He denied any wrongdoing, but the commission members reprimanded him for dishonesty when he was asked if he had received free rooms at Caesars Palace. He left office in 1997 after serving a five-year term and was replaced by Bernard C. Parks. After leaving LAPD in 1997, Williams was later appointed as Federal Security Director for Hartsfield Atlanta International Airport in 2002.
Willie L. Williams, the first African-American to lead the police forces in Philadelphia and Los Angeles, died on Tuesday at his home in Fayetteville, Ga. He was 72.
1 Source: David H. Bayley, "Policing in America," Society 36 (December 1998): 16-30