Did you know that the United States Department of Labor has recognized the importance of your job? It lists nursing assistants, home care aides, direct support professionals and personal care aides as three of the most needed or sought-after jobs for the year 2020 and beyond.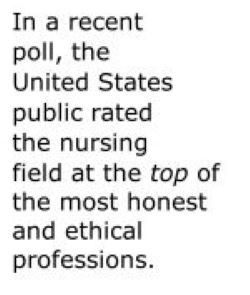 There is an increasing nationwide demand for more and more people with skills that you already have. This is because our population is getting older.
All those "baby boomers" are not babies anymore!
With each passing year, technology and medical research have helped more elderly people live longer. There will be a greater need for nursing assistants and aides to help people who have chronic illness or need help with Activities of Daily Living (ADLs) age in place in the comfort of their own home for as long as possible as well as assist clients and their families explore senior housing within communities.
Important Facts About CNA Career
In the year 2021, nursing aides held almost 3.5 million jobs in the United States. This huge number is only expected to increase in the coming years. It has been projected that by the year 2030, the number of nursing aides needed will increase as much as 33%!
Your work is very important to your clients and to your supervisors. You may not always hear "thank you" or "good job", but you can leave work everyday knowing that you really made a difference in your someone's life.